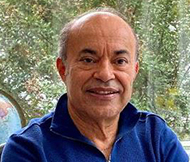 Gerver Torres
Senior Associate, CSIS; Research Consultant at the Gallup Company
Gerver Torres is currently a Research Consultant for the Gallup Company and Senior Associate for the Center for Strategic and International Studies (CSIS) in Washington, DC. He is also a consultant on private sector development issues for the World Bank, the Inter-American Development Bank and the Institute for International Financial Cooperation (IFC).
He is the current director of the "Leadership and Vision" organization, a Venezuelan non-profit entity dedicated to the formulation of long-term projects and the development of narratives for the strengthening of democracy and citizen values.
In his native Venezuela he was Minister of Privatization, Director of the International Monetary Fund and Governor in the OPEC Fund. Prior to these responsibilities, he was at the International Fund for Agricultural Development.
He has taught at various universities and institutes of higher education on economic development issues.
For more than 10 years he has worked for various governments in Latin America, Europe, the Middle East and Asia in the restructuring and privatization of public companies, and the social impact these entities have on society.
He has published several books and articles on economic and social reforms in developing countries. Among these: "The Third Wave of Privatization" and "Municipal Privatizations," published by the World Bank.  Also, "A Dream for Venezuela," which was recently updated (2020).
He is a graduate from the Central University of Venezuela, where he also carried out post-graduate studies.