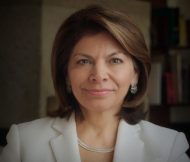 Laura Chinchilla
Former President of Costa Rica; Vicepresident of the World Leadership Alliance - Club de Madrid
Former Costa Rican President, Laura Chinchilla, is a political scientist with a Masters in Public Policies from Georgetown University.
She was the first woman to be elected President of Costa Rica (2010-2014). Prior to her election she was Minister of Public Security (1996-1998), legislator (2002-2006), Minister of Justice (2006-2008) and Vice President of her country (2006-2008). During her political career, Ms. Chinchilla supported police and judicial reform policies in order to face growing crime and violence. She also worked on open and digital government policies, the promotion of the rights of women, and the protection of the younger population.
She also promoted environmental sustainability projects, especially those related to the preservation of marine biodiversity.  For her efforts, she received prestigious international awards.
Ms. Chinchilla has worked as a consultant in various international organizations, such as the International Development Bank, the United Nations Development Program, and the U.S. Agency for International Development (USAID). She has also participated as advisor in the UNDP's Report on Human Development and in the World Happiness Report. She is also a member of the International Olympic Committee, the World Leadership Alliance – Club de Madrid, the Inter-American Dialogue, the Concordia Organization and the Euro-America Foundation.
Ms. Chinchilla has led various electoral observation missions to the Americas, and presided the Kofi Annan Commission on Elections and Democracy in the Digital Era. She has taught Political Institute and Public Policies at Georgetown University, in the U.S. Also, at the Monterrey Technological Institute (Mexico) and at the Universidad de Sao Paulo (Brazil).