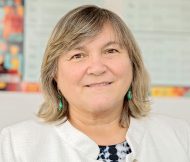 María Noel Vaeza
UN-Women Regional Director for the Americas and the Caribbean, United Nations
Maria-Noel Vaeza joined U.N. Women as Regional Director for the Americas and the Caribbean in July, 2019. She was also Director of the Program Division in U.N. Women headquarters in New York. Ms. Vaeza joined U.N. Women when she left the United Nations Office for Project Services (UNOPS), in Copenhagen, where she was the Director of the Office of Global Portfolio Services. The Office was in charge of operational results of the institution's global portfolios and the establishment of strategic alliances.
As UNOPS' Regional Director for Latin America and the Caribbean, Ms. Vaeza was responsible for the management of a regional portfolio of 270 projects in 22 countries, with a total budget of US$2.4 billion during 2007/2013. The program budget averaged US$400 million annually. Previously, she remained during eight years at the U.N. Development Program (UNDP), where she held various positions: Senior Advisor, Adjunct Resident Representative in Paraguay, and Manager of the Recovery, Reconciliation and Reform Project.
Before her tour at the United Nations, she occupied various positions in the Ministry of Public Relations of Uruguay, including Political Counselor at the Uruguay Embassy in Washington, D.C. and delegate to the U.N. General Assembly. She was also Alternate Representative from Uruguay before the World Bank's Board of Governors.
Ms. Vaeza is from Uruguay. She holds a doctorate in Law and Social Sciences from the University of the Republic of Uruguay, and a Master's in Public Policies from Johns Hopkins University in Washington, D.C.