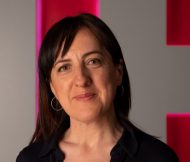 Tiscar Lara
Director of Digital Transformation
Tíscar Lara is the current director of Digital Transformation of the Instituto Cervantes, and for the past 20 years has dedicated herself to the management, teaching and research in the education and digital communication sectors.
Previously, Tíscar Lara was Director of Communication and Marketing, as well as Vice Chair of Digital Culture of the "Escuela de Organización Industrial" (EOI), and professor at the Carlos III University in Madrid.
She holds a doctorate in journalism, as well as various advanced degrees in the digital area. She has developed her academic career as Visiting School at Harvard University and as Special Reader in the New Media Lab of the University of Los Angeles (UCLA).